What screams I have not controlled myself
"I can't call" - hearing impaired people and the police
Often enough, these people not only hear badly, they have never learned to speak properly as a result. This handicap is not only an obstacle for those affected, the helpers often do not know how to deal with it. The Cologne police have therefore had a contact person for people with hearing impairments for six years.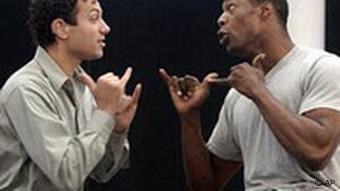 Two men are talking in sign language
In Germany there are an estimated 14 million people with impaired hearing. About 100,000 of them are completely deaf. If you can only hear to a limited extent or not at all, you can usually not speak, read and write normally. Ingrid König is an exception. The 38-year-old qualified social pedagogue only became deaf at the age of 19 and has therefore retained an unusually good language ability for the hearing impaired. Despite this, she felt helpless for a long time in emergencies.
Quick and easy advice
"I once had a situation where I was driving the car in the evening and suddenly a man ran up to me, covered in blood, and absolutely wanted my car," said König, describing the situation. "I drove on." At that time she did not know how to behave. Nor did she know how to contact the police. "And that was a barrier for me. I couldn't call."
The police in Cologne have been trying for a number of years to be able to offer advice and help to the hearing impaired quickly and easily. Since 1998 there has been an emergency fax that deaf people can use to contact the police in an emergency. In lectures, through brochures and on the Internet, hearing impaired people are shown how to protect themselves from violence and what to do in an emergency.
Insecurity in dealing
The person who is significantly behind these actions is Cordula Clausen. The 32-year-old police chief has been the contact person for people with hearing impairments since 2000. What makes her so special is the fact that she has mastered sign language herself. "Since I've been doing this job here, I've heard time and again from deaf people how grateful they are that they can finally ask something directly without an interpreter or file a complaint," says Clausen happily. "And word gets around that some deaf people come here from over 200 kilometers away."
There are no statistics on crime involving victims of hearing impairment or the number of reports by the deaf. But Cordula Clausen is certain: "If there were accessibility in every authority, that an interpreter was granted or that there were police officers who are familiar with German sign language, then a lot more things would be uncovered." Specific handling of disabled people is not part of police training. Therefore, hearing impaired people often experience that police officers do not know how to deal with hearing impaired people.
Is there an interpreter coming?
Ingrid König knows from hearing-impaired people who were involved in an accident that the police always approached the hearing road user. "They said to the deaf: 'Wait, wait, wait'. Those were very negative experiences because they didn't know: Am I being noticed? What happens? Is there help coming? Is there an interpreter? Nobody knew."
Thanks to Cordula Clausen's commitment and initiative, the situation for the hearing impaired in Cologne has noticeably improved. Ingrid König also feels safer and better prepared for emergency situations today: "I know the police headquarters are more open and accessible, I can go there. I know there is an emergency fax that I can use. If something happens on a tram, I can I press the emergency button, nothing happens to me, that's okay, I know that today. "