Is the AI ​​driving the financial markets?
The global financial markets are suffering from COVID-19: Digitization and artificial intelligence are saving them
Money flows that are too slow are threatening to paralyze entire economies. Because as COVID-19 continues to spread, financial transactions are slowing down significantly. According to the International Labor Organization (ILO), the equivalent of 195 million jobs were destroyed by COVID-19 within a few weeks. The economic effects and costs of social distancing cannot yet be assessed and are beyond our understanding. Banks now have to use even more digitization and artificial intelligence take countermeasures.
by Rahul Singh, President Financial Services
at HCL Technologies
Without a global debt moratorium, there will be a wave of devastating national bankruptcies. The US government has already announced the largest bailout in history: $ 2.2 trillion is to be transferred to the accounts of corona-affected companies and individuals. Germany has put together an aid package worth 353.3 billion euros, the scope of the guarantees amounts to a total of 819.7 billion euros. To finance this, the federal government will take out new loans amounting to around 156 billion euros. For example, the EU countries want to cushion the effects of the pandemic with around 500 billion euros.
Faster cash flows through digitization and artificial intelligence
The challenge for any government considering such action is to get the money into the correct accounts quickly before the virus brings the economy to a complete standstill. "
To do this, governments must increase the availability of money. Because in the fight against the effects of COVID-19, too slow a pace would be fatal for the economy.
To ensure this, the financial systems must be digital, robust and networked with one another. They also need rules to ensure that the recipients of aid are quickly identified, carefully screened and the funds transferred directly to their bank account. "
Indian financial institutions are showing how this can work. In the first week of March, the Indian Ministry of Rural Development had already transferred around 78.2 billion rupees (950,000 euros) to the bank accounts of 156.5 million women (part of the Pradhan Mantri Jan Dhan Yojana) as a first step to help the poorest of the poor to save from starvation and start investing money in the economy again.
More speed
All over the world banks are announcing mortgage and loan breaks. Financial institutions are increasing their overdrafts. Credit card companies put their payments on hold. Banks waive personal guarantees for SME loans. But these measures could easily turn into a two-sided sword. If the banking systems are not set up to reliably manage these changes in the backend, they could inadvertently send loan payment reminders to those who opted to defer payments. The result would be a false alarm. These reminders could, however, have an impact on the creditworthiness of customers who - wrongly - would be classified as insolvent. To prevent this from happening, banks must employ crisis response strategies to ensure that they are acting properly. To do this, they need Artificial Intelligence (AI) and Robotic Process Automation (RPA). This allows back-ends to be reliably managed in order to change business rules and processes quickly and on a large scale.
Author Rahul Singh, HCL Technologies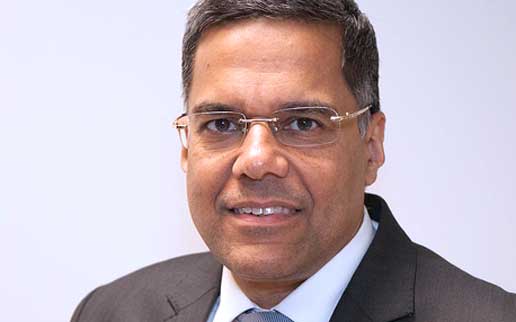 Rahul Singh
is President of the Financial Services Division at HCL Technologies and provides IT, infrastructure and BPO services for HCL's global customers in the banking, capital markets and insurance sectors. Rahul, who started his career at Citibank in 1986, is a mechanical engineer and holds an MBA in finance from the University of Mumbai, India.
In addition, banks should work with governments to develop COVID-19-specific apps. For example, if a government announces cash grants for SMEs, a mobile application could allow SMBs to upload the documents to determine their eligibility. These documents would then be automatically checked and authenticated using RPA. The funds could be automatically transferred directly to the account of the eligible medium-sized company, even before the relevant documents are updated by the responsible authorities.
Other important innovations are now gaining ground
Just as COVID-19 is driving digitization, it is also accelerating two other trends that have been pending for almost two decades but have not yet been implemented across the board. The first is the trend towards working from the home office. During the crisis, it has proven to be a quick and practical way for companies to keep working. Working from home will be the new normal as organizations now equip their employees with the hardware, software, and skills they need. But apart from setting up the infrastructure and security processes, home office also means that employees are trained or retrained.
The rapid adoption of automation, analytics, and artificial intelligence (AI) will mean employees will need to learn new skills. But there is good news on this front: About half of the high demand for new skills is being met by intelligent employee bots or digital assistants. The use of digital assistants or role-specific bots is increasing.
Practically every employee in a company will have a digital colleague who has AI-supported skills such as testing, accounts receivable or payroll at the end of the year in order to improve efficiency and output. "
It's not too difficult to imagine that not all employees will be able to learn new skills quickly. This is where employee bots will prove to be a blessing by playing the additional role of mentor. Employee bots can observe their human counterparts and automatically suggest exercises and processes that lead to an improvement in performance.
The second trend that has been on the back burner so far and has not yet gained the attention and pulling power it deserves is crowdsourcing. This is increasingly used in the course of the gig economy, in which short-term contracts are awarded to independent self-employed or freelancers. In this way, developments can be carried out risk-free and one day even live applications can be managed. With crowdsourcing, financial services providers will meet their ongoing need for new skills and introduce new ways of working. Over 60 percent of companies expect their share of contract or gig workers to quadruple over the next five years. The financial industry has to accept this as the new normal and introduce processes to promote crowdsourcing and the gig economy.
Come back stronger and more confident
The financial industry is facing a dramatic change as digital technologies suddenly come to the fore. Digital, crowdsourcing, home office, bots, AI, automation, RPA and similar technologies are becoming essential for the industry in order to continue to reduce the effects of crises and special events in the future. If these technologies are promoted and provided by management, the entire financial industry will be stronger and better equipped to deal with disasters and other uncertainties following the corona crisis.
At the moment, COVID-19 may be the single largest disaster in the history of the financial sector and many other industries. But the crisis can also help to positively change the future of the entire industry. Financial institutions should focus on adapting to the new normal, adopting intelligent technologies that make their systems resilient, and reducing the need for human intervention to make them work every day. In this way, the speed of solutions and processes that accelerate the flow of money will almost automatically increase. Rahul Singh, HCL Technologies
You can find this article on the Internet on the website:
https://itfm.link/107457

(
1
Votes, average:
5,00
of a maximum of 5)
Loading ...
Interesting too