What is a relevant work experience
Work experience: what does it include? Tips for collecting
Applicants without work experience often have a hard time. Many employers require relevant experience even from young professionals. Requirements that can hardly be met. How are you supposed to gain work experience if nobody gives you a job because of it? So what to do We looked into the question of professional experience: Why is professional experience so important? What do employers and HR managers understand by this - and of course: Where can I gain work experience? Here are the answers…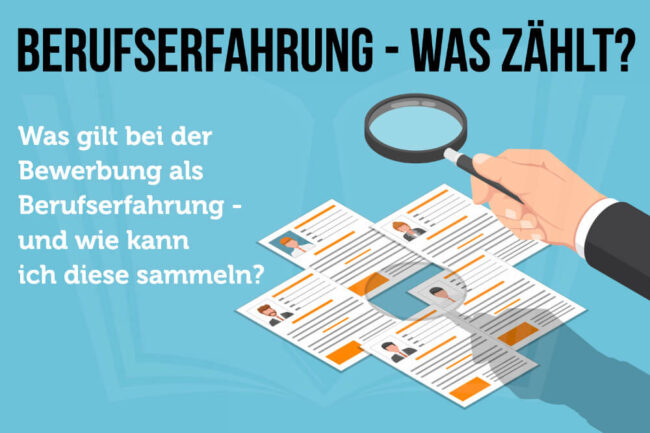 ➠ Content: This is what awaits you
➠ Content: This is what awaits you
Application without work experience - difficult!
A look at the online job exchanges or the job advertisements in the newspaper shows that work experience is often required. Sometimes it is two years, sometimes three, and elsewhere even five years of experience that applicants and candidates have to bring with them. In addition to the additional qualifications that employees and future employees should bring with them, professional experience ranks high on the priority list of employers and companies. Why actually?
Behind the requirement for relevant experience in the job there are two main thoughts:
Quick start
Work experience enables a faster entry. The induction (also called onboarding) is shorter or completely eliminated. Corresponding candidates also usually work more independently.
Fast results
Work experience indicates that an employee knows his trade. Means: This applicant is familiar with the profession; knows what tasks and processes await him or her and can therefore deliver quick results.
The vicious circle of work experience
The problem with work experience: You have to collect and win it first. Especially when starting a career, this becomes a handicap and a vicious circle: no job without work experience - no work experience without a job.
Quite often the vacancies are reminiscent looking for the egg-laying woolly milk pig on the Internet: Applicants should be as young as possible, have top grades and at the same time have at least three to five years of professional experience. How is that supposed to work - with a few internships or the usual student jobs?
That brings us to the important question: what counts as work experience anyway? Are HR training, internships and part-time jobs counted as work experience? And if not, what is relevant work experience?
Definition: what counts as relevant work experience?
Not all work experience is the same. Not only the number of years, but also their relevance for the desired position, i.e. their quality, count when applying and changing jobs. Two thirds of employees change jobs and employers up to five times in the course of their working lives. Every new job cycle brings new plus points to the experience account. Nevertheless, with every application you should take a close look at what is required:
First work experience
If work experience is not mentioned in the job offer, it plays little or no role. These jobs are mostly aimed at young professionals. Some formulations also indicate that professional experience is not absolutely necessary in the résumé.
If the job advertisement says, for example: "First professional experience is an advantage", which translates as: "If everything else fits, you can do it without experience." However, those who have something to show increase their chances of applying. The phrase: "Ideally you already have some initial work experience" has a similar meaning. If, on the other hand, "first work experience" is required, applicants should provide evidence of this. It does not have to be a long-term employment contract. HR managers understand "first professional experience" to mean that you have already gained practical experience in a comparable job. That could have been in a regular employment relationship. Or in an internship lasting several months as well as part-time or mini-job in the relevant area.
Relevant work experience
If the employer expects more, the job advertisement often speaks of "relevant work experience" or "relevant work experience". Means: An applicant is expected to have worked in this or a related profession and area and is familiar with the tasks and processes.
How long the work experience should be, in this case depends on position. In some professions, you are ready for the job after just one year. In other jobs, this only applies after three years. It is therefore crucial how you present your professional experience in your résumé and whether you can shine with relevant successes, for example. So do not just list in your application what you have already done, but also what (positive) effects that had. For example "5 percent cost savings" or "12 percent more customer satisfaction".
Many years of professional experience
If a company is looking for employees with "extensive professional experience", "in-depth professional experience" or "longstanding professional experience", employment for five or more years in a suitable position is expected. Here the employer assumes that you are very knowledgeable, have contacts with you and that you can quickly find your way around the new environment. Mostly these are higher positions or jobs for specialists.
For example, do you want to be a manager Change to another company if, under these conditions, you should have worked as a manager a few years earlier and not (only) as a specialist. Without previous professional experience in management, candidates hardly have a chance here.
Where does the professional experience belong in the application?
If professional experience is required for a job, you should document this in the application. Classically, this happens in the curriculum vitae. The first section is headed accordingly with "Professional career", "Practical experience" or "Professional experience". In the tabular curriculum vitae (now standard), the period of employment is indicated on the left. Following the pattern: MM / YYYY - MM / YYYY. In the right column is the exact title and job title, the employer and below - in bullet points - the relevant experience. Try to select the information according to what could be relevant for the advertised position. So not quantity, but quality. For example, the result could look like this:
If necessary, you can also include them in the application letter respond to your work experience. Here you have the opportunity, for example, to formulate how you want to use the professional experience you have gained in your new job or how the new employer will benefit from it. You can find more tips and information on this in our article on applying without work experience.
Where can I gain work experience?
With an apprenticeship, the first work experience comes automatically. However, training is often given less weight than later, "real" work experience. It is even more difficult if you are at university or a technical college. Here you have to show more initiative in order to gain initial work experience. This works best with a dual study program. Other alternatives for gaining professional experience while studying are:
internship

In many courses, internships are already part of the compulsory program. If not, you should try to do an internship of several months during the semester break. Ideally at a company that you want to work for later. In this way, you can get to know your potential employer straight away and also gather relevant contacts.

Student jobs

Many students go to work to finance their studies or to supplement the household budget. In numerous industries, vacation jobs or part-time positions as well as project-related tasks are given to students. In such positions, however, make sure that the amount of time and working hours do not exceed the permitted workload. Job offers for teleworking or remote work are particularly suitable.

Cooperation projects

In some cases, companies and universities work together directly on so-called cooperation projects. Advantages: The students can apply directly within the university. The working and project times are coordinated with the lecture times. The effort is therefore limited. In addition, the performance can often be used directly for the course. The disadvantage is the payment: it is either low or not provided at all.

Working student jobs

As a student trainee, you will work for an employer all year round. The working hours are generally compatible with the course - up to 20 hours per week in addition to the course. This gives you an insight into the processes and workflows. The payment is also a plus: often well above the minimum wage. The requirements are high and student jobs are rare and sought after. You can find tips on how to apply HERE.

Freelance work

Those who want to work freelance gain greater flexibility in terms of time and space. But may not always find a job when he or she needs one. Freelancers have to take care of their jobs themselves and usually also build reputation and reach. That takes time and energy - without knowing whether the effort will pay off later.
Gathering work experience: you should pay attention to this
Regardless of the ways in which you gain work experience, there are a few points to keep in mind:
Clarify the time required for the tasks in advance.
Insist that all agreements and arrangements regarding working hours, attendance, payment and the like are recorded in writing.
Pay attention to clauses that may require short-term work.
What HR managers read from their work experience on their résumé
HR professionals not only recognize the suitability of a candidate from their work experience. They often draw their conclusions from the number, duration and quality of the engagements. They are not always right about that. This makes it all the more important to recognize possible stereotypes early in the application process and to respond to them ...
Up to 6 months: Was the change your own fault?
A uniquely short station is not an exclusion criterion. The applicant may have recognized early on that the job or employer did not suit him. Perhaps he was fired because of austerity measures or restructuring. It only becomes problematic when several such short-term engagements follow one another. At some point, HR managers suspect someone who is not able to work in a team or who is difficult to integrate into existing organizations. The work ethic is also in doubt.
Some candidates were just unlucky in the previous job choice. It is all the more important that you address any associations on your own - at the latest in the interview, better already in the cover letter. Tell the reader how much you learned in the short interludes or six months and what you can apply in the new job.
1 year: is this candidate a job hopper?
If the résumé shows one or even several jobs of around a year, HR professionals easily suspect a so-called job hopper. These are either particularly opportune employees who change immediately as soon as something better is available. Or they are erratic, moody and unloyalty. According to surveys, such applicants are out of the question for almost half of recruiters.
If you are not a job hopper, it is essential to counteract the impression: Write why you are interested in this position and in the company and why this job is not a stepping stone for you. Emphasize your plans for long-term development in the company. If, on the other hand, you tend to change jobs frequently, at least underline the benefits that your professional experience has for the company. Sometimes it is better to hire a genius for a year than an average applicant for several years.
1 to 3 years: Was there no promotion?
A promotion is not always evident from the curriculum vitae. For HR managers, having been with the company for three years is important to know whether and what you have achieved during this time. Whether you have taken on responsibility and what quantitative and qualitative successes you have achieved. Rule of thumb: Real top performers leave measurable traces in the company in their third year at the latest.
Who then changes, is either looking for new challenges (good!) or moves on because he or she has not achieved anything and is now stuck (bad!). So show in your application documents what you have achieved and how. Best evidenced by numbers or other measured variables. Promotions as well as the expansion of tasks and competencies should also be mentioned.
3 to 5 years: Why do you want to switch right now?
Such a length of employment impresses many HR managers. Especially when you take into account the current fluctuation rate in the labor market. In this case, however, HR managers are all the more curious about your motivation to change.
Therefore, always state this in the letter of motivation a so-called towards-motivation, never an away-from-motivation. The latter looks like an escape. Conversely, it turns out to be more of a shoe: you orient yourself towards the new employer because he offers something attractive. That makes you look strategically planned and determined.
5 to 10 years: is this candidate still changeable?
It depends on the job and the specialist career. Even after ten years, you can still change your career without any problems. However, there should then have been - internally - changes or further development at least beforehand. Anyone who has stuck to one post for ten years does not seem ambitious. With increasing age, this kind of job change becomes increasingly difficult. Perhaps you just want to forestall a threatened dismissal.
Again is crucialto justify the change of job well. Ideally in the cover letter. It should be clear that you are applying for the new position specifically and for good reasons. For example: The new employer offers exactly those development prospects that were previously lacking. When reading the résumé, there are no negative associations at all.
What other readers have read about it
[Photo credit: Jiw Ingka by Shutterstock.com]