Which Amazon warehouse should I ship to?
Amazon delivery at FBA - How to prepare the shipment of your goods to the Amazon warehouse
Regardless of whether you import products from China or buy your products elsewhere: In order to be able to use the FBA program, your goods must reach the Amazon warehouse.
Amazon gives the sellers very strict guidelines at this point. Failure to comply with these risks delays and problems. The first Amazon FBA delivery may therefore often be a bit overwhelming.
So that everything works smoothly and your first shipment can be processed without any problems, you should carefully prepare the dispatch of your goods to Amazon. So that you know what you have to pay attention to, this article provides you with step-by-step instructions, from creating the delivery plan to labeling the products and selecting the transport company. Not much can go wrong this way.
Preparation - What do you need to ship your goods?
You need the following products to prepare your products for shipping to the Amazon warehouse:
packing material - In order to pack your products, you need packaging materials such as cardboard boxes. If your products do not completely fill the boxes, you will also need appropriate filling material.
Label material - These are white stickers that you can print on.
printer - You also need a printer. This should have a good print quality so that the labels are easy to read.
duct tape - You will need tape to seal the package.
When you have all the products at hand, you're good to go.
1. Create the Amazon FBA delivery plan
In the first step you have to create the delivery plan. This is a list of all the products that you want to send to Amazon. It contains an overview and specific information on this process.
Under the item "Stock" select the products that you want to send to Amazon with your shipment.
Then select "Send / add to inventory" in the drop-down menu above and click "Go".
If it's your first shipment, you'll need to create a new delivery schedule.
Under "Set quantity" you can add and remove products from your delivery plan.
When you are finished with your delivery schedule, click "Next" to proceed with shipping preparation.
2. Prepare products for shipment to Amazon
The next step is to prepare your products for shipping.
Pack your products according to their category.
Specify the appropriate preparation category.
Specify the type of label you want to print and click "Print labels for products on this page".
Print out the labels and attach them to your products so that they are clearly visible. You need to make sure that they can be scanned quickly and without problems.
3. Check the delivery plan and approve the shipment
In the next step you check your delivery plan and approve it.
Make sure you have given the correct amounts.
Then click "Approve Shipment". You will then be shown where to send your products. It can happen that you have to split up your shipment and send it to different logistics centers.
4. Pack products in shipping boxes
Then pack your products in shipping boxes.
Make sure that all labels are clearly visible.
5. Determine the shipping method
Then decide on a shipping method. You have the choice between a partial truck load or a parcel shipment.
Enter a transport service provider.
Provide Amazon with your tracking number.
When you have handed over your goods to the transport service provider, click on the "Mark as shipped" button. This changes the status of your delivery to "Shipped".
6. Wait until the shipment arrives at Amazon
You then have the option of tracking the progress of the shipment in the shipping menu. If there are problems booking your shipment, these will also be displayed here.
Please note that it can take up to 3 days after the carrier arrives at the logistics center until your shipment is fully received and booked. Therefore, always keep an eye on your inventory and prepare your shipments in good time.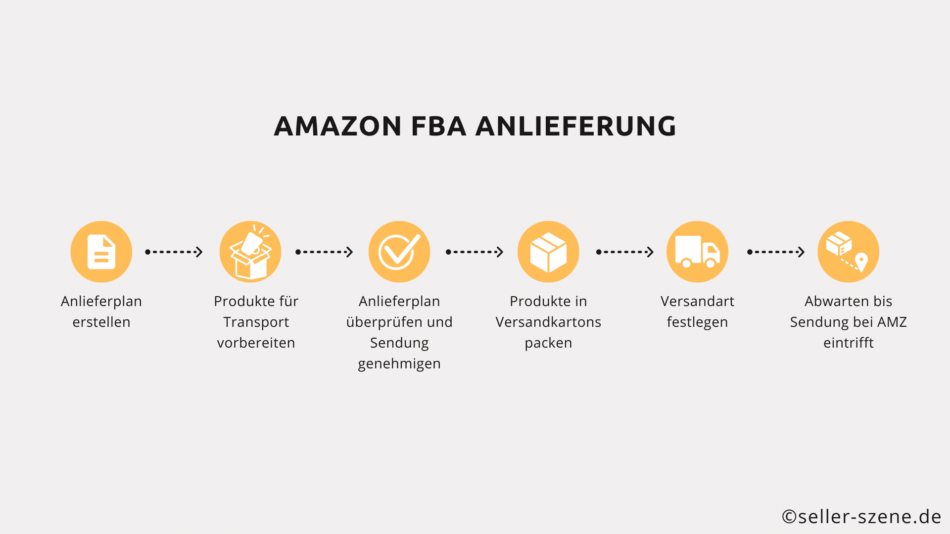 Alternative: interim storage of the products in a warehouse
Instead of sending the products directly to Amazon, you can also use an Amazon FBA interim storage facility. This saves you storage costs, reduces the risk of penalties and removal costs and you are a little more independent from Amazon.
Here you can decide for yourself when and how many of your products should be brought to Amazon. The provider of your interim storage facility will then take care of the preparations for shipping to Amazon.
Avoid these 5 mistakes with Amazon FBA delivery
Certain errors occur regularly and repeatedly lead to delays or, in the worst case, to a rejection of shipments. In order not to waste time and money pointlessly, you should avoid these mistakes:
Inadequate packaging - Damaged packaging or packaging that does not meet the requirements is often rejected.
Bad labeling - Wrong or illegible labels often cause problems. Therefore, make sure that you apply the correct labels so that they cannot come off either. Cover up any labels that are visible on the box but have nothing to do with your delivery.
Other amounts - The delivery can also be delayed if your delivery contains more or less goods than announced in your delivery schedule. Therefore, it is better to check once too much that you are delivering the right amount.
Product deviations - If your product deviates from the product description stored on Amazon, e.g. because you have revised it or developed a new version, it can lead to problems.
Too heavy boxes - There are also difficulties if your delivery weighs more than 15 kilograms and there are no corresponding warning signs on the box.
Conclusion on the subject of Amazon FBA delivery:
If you follow the individual steps for shipping your products to Amazon, there should be no complications and your delivery should go quickly and smoothly.
Always keep an eye on your inventory so that you can deliver new goods in good time and do not risk going out of stock.