Coconut oil clogs your pores
Which people are "appropriately predisposed" to the fact that comedogenic substances may promote blackheads and blemishes in them?
What skin type does coconut oil clog the pores?
It depends on the skin type whether the coconut oil clogs the pores or not. First of all, a natural vegetable oil cannot clog your pores on its own. They become clogged with flakes of skin, dead skin cells, sebum and bacteria. Only now do blackheads or pimples appear.
People with large skin pores are more prone to clogged pores than people with fine skin pores. Those who have rather coarse skin pores often get blackheads. In this case, coconut oil can force the development of blackheads.
This can be avoided by using a gentle scrub before applying the coconut oil. It removes those substances that can clog pores.
People with fine skin pores often have dry skin, as the fine skin pores only secrete little sebum. At the same time, fine skin pores offer little space for substances that could clog the skin pores. Therefore the coconut oil is a very good skin care product here. Yes, for many people coconut oil is a real miracle elixir for the skin.
In addition to the benefits of coconut oil already described above, it soothes the skin, relieves tension and heals redness. It is rich in antioxidants such as E.g. ferulic acid - an antioxidant phenolic acid that is much more effective than vitamin E. It reduces age spots, repairs damage caused by UV radiation and reduces skin aging.
Coconut oil for the face care of sensitive skin
If you haven't tolerated coconut oil in facial care so well, you can try the following tips to still enjoy the benefits of coconut oil - without experiencing any disadvantages.
Mix the coconut oil (that you plan to use in facial care) with an oil that is known to be non-comedogenic, such as coconut oil. B. hemp oil, argan oil or shea butter. All of them have a zero on the comedogenic substance scale.
Apply an exfoliant before applying the coconut oil. Then there are no substances at all that could clog the pores.
Don't use coconut oil as a moisturizer or cream, but as a cleansing oil. So apply the coconut oil to the skin and massage it in. After a short time, remove it with a damp cloth and warm water.
In this way, coconut oil can be used very well in facial care.
You can find more information about coconut oil and its health benefits here:
Coconut Oil - Tips for Skin and Body Care
Coconut oil stops tooth decay
Coconut oil for cancer
* This article contains advertising. Our website contains affiliate links (* mark), i.e. references to partner companies, e.g. to the Amazon website. If a reader clicks on an affiliate link and subsequently on a product from our partner company, we may receive a small commission. This means that we cover part of the costs we have for the operation and maintenance of our website and can continue to keep the website free of charge for our readers.
donation
Your donation helps us
If you enjoyed this article, we would appreciate a small contribution to our work! Donate now with Paypal.
display
Distance training to become a holistic nutritionist
Are you interested in what's in our food and want to know how nutrients and vital substances affect the body? Do you want a healthy life for yourself, your family and fellow human beings? Nutritionists are popular - but the holistic aspect that is needed for sustainable health is often forgotten when giving advice. At the Academy of Naturopathy, you will get to know the connections between lifestyle and diet as well as physical and psychological well-being.
That educates interested people like you in around 16 months to become a holistic nutritionist out.
Is this article worth reading?
Share this article
swell
Coco M., Does Coconut Oil Clog Pores ?, April 25, 2014, Coconut oil tips, (Does coconut oil clog the pores?)
Marina AM, Man YB et al., Antioxidant capacity and phenolic acids of virgin coconut oil., 2009, International Journal of Food Sciences and Nutrition, (Antioxidant ability and phenolic acids in virgin coconut oil)
Yang D et al., The antimicrobial activity of liposomal lauric acids against Propionibacterium acnes. October 2009, Biomaterials, (The antimicrobial effectiveness of liposomal lauric acid against Propionibacterium acnes)
Nakatsuji T et al., Antimicrobial property of lauric acid against Propionibacterium acnes: its therapeutic potential for inflammatory acne vulgaris. October 2009, Journal of Investigative Dermatology, (Antimicrobial Properties of Lauric Acid Against Propionibacterium acnes: Their Therapeutic Potential in Inflammatory Acne)
Notice on health issues
This information is passed to the best of my knowledge and belief. They are intended exclusively for those interested and for further training and are in no way to be understood as diagnostic or therapeutic instructions. We do not assume any liability for damages of any kind that arise directly or indirectly from the use of the information. If you suspect illness, please consult your doctor or alternative practitioner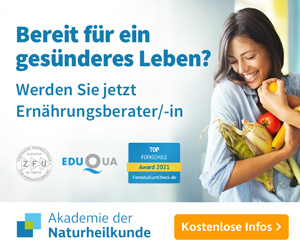 Subscribe to Newsletter
Exciting information about health and nutrition
1x per month
Login Successful. You will shortly receive a confirmation at the specified email address.
With your registration you allow the regular sending of the newsletter and accept the data protection regulations.
HEALTH CENTER © 2021 Neosmart Consulting AG. All rights reserved.