How would you rate Cocos2d x nowadays
HOW TO: User Generated Content in E-Commerce
I've already done it twice today. On some days it can be ten times. Three friends of mine already did it today and showed it to me. On my way to work, I've seen others do it five times. One of them even did it with an aid. At my age almost everyone does it, but younger people do it much more often. I know my mother does it - and not infrequently. I've also seen two retirees doing it - really!
Funny, actually, that companies, shops and marketers rarely make use of this desire to do so. It would make her really happy, I'm sure.
If you have dirty thoughts now: tz tz tz ... It's obvious what I'm talking about: Selfies. Of course. And that's just the tip of the iceberg. Today is about: User generated content.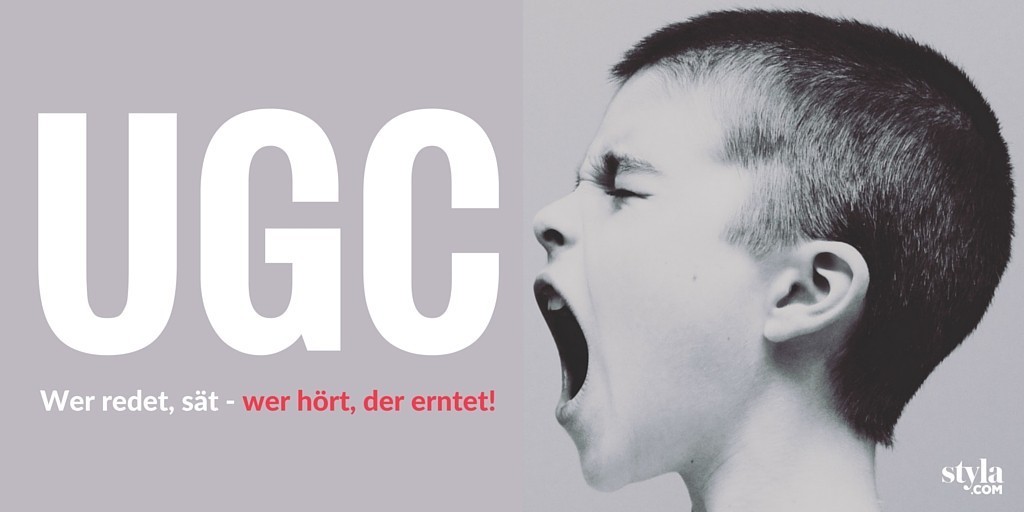 Once upon a time there was a user who generated content ...
... or what exactly is that supposed to be: "User generated content"? Sounds bulky and somehow as if you had to guide these users first, i.e. tell them what to do or what to generate. In fact, user-generated content means nothing else than any form of communication from people to people, from customers and users of a product or service to online shops, companies and brands. Unfortunately, what is said is still heard far too seldom or used wisely. The possibilities are endless. Above all, however, the effects that result for e-commerce businesses are terrific. Some of them are obvious and are probably already known to many. Because
70% of users check reviews, ratings and comments before buying a product in an online shop.
(Source)
Of course, this implies that people prefer online offers that make customer opinions publicly visible. This can also be seen in the fact that products with reviews are much more likely to be bought:
Customer reviews increase product conversions by up to 74%!
(Source)
Why? Because products automatically experience a boost in trust when other people have already used them and then also as good, great and absolutely want-to-have classify.
But user-generated content can do a lot more. Think about it: We all scream CONTENT MARKETING, and in this context we also scream ADDED VALUE for the customer, emotion and of course anyway: VERY CLOSE, to the customer - here you go. But: who is closest to it? Exactly: the actual customer. So don't just write for him, develop strategies to with him to draw the image of your brand or your product together.
86% say that user-generated content is generally a good indicator of the quality and trustworthiness of a company.
(Source)
It pays to dig deeper into the creative box. Because in addition to the obvious forms of user-generated content, i.e. reviews and so on, you can go a lot more ways. You are now wondering where?
UGC in direct communication with your customers
Does your shop already have the option to leave opinions and ratings? If not, you should do that very quickly. Don't be afraid of trolls or serious negative feedback. In fact, it works for you in many ways: On the one hand, negative feedback creates a window through which you can look specifically at the future of your product. It also provides you with inspiration for upcoming adjustments and improvements. It's just the bare truth that there isn't just one perspective out there. So you can't please everyone. Everyone else knows that too, which is why it actually tends to stir up uncertainty and skepticism when your side is bursting with encouragement, praise and all-encompassing lucky customers. Criticism is good and makes you authentic.
There are many tools out there that make it very easy for you to give your customers the opportunity to rate and talk about them. Yotpo.com, trustedshops.de or ekomi.de are just a few of them.
User Generated Content - On social media
User-generated content is of course also content that can be found on Facebook, Twitter, Pinterest, Instagram and Co. Whenever a person posts a selfie of themselves and your product, it is cause for joy! Every pin, every hashtag, every mention is worth gold. But how do you get people to talk about you in their private circles? Well, at best it happens all by itself because your product is so incredibly good that everyone is talking about it. Then you just have to put the resulting gold work in the spotlight, share it yourself, react, integrate it into your shop. So get creative, you can be proud of it when you are talking to us.
One could also try a completely revolutionary approach. Depending on the scope of your range and the nature of your product, you can use photos that you request from your customers to present your product detail page in an authentic and varied way. [If you use pictures of your customers, always remember to get permission for them]
The power of narcissus
If you're wondering how you can get your customers to share photos of you and your products on social media, send them directly to you, or share them in some form with others, I have good news: it's incredibly easy. Almost all people love to present themselves. Especially in the digital atmosphere, in which the veil of anonymity and spatial distance still envelops the atmosphere, despite all publicity, such a selfie doesn't feel like self-revelation at all. But on the contrary. The same feelings of happiness that a positive evaluation of one of your products triggers in you, overwhelm everyone else when they experience a positive response to a picture or their opinion. So there is no need for persuasion, but rather an ignited initiator who taps into the source of the UGC.
Social, social everywhere
First of all, make it as easy as possible for your customers to talk to and about you. Include social media buttons not only on the category pages of your shop or only on your home page, but also and absolutely on every single product detail page.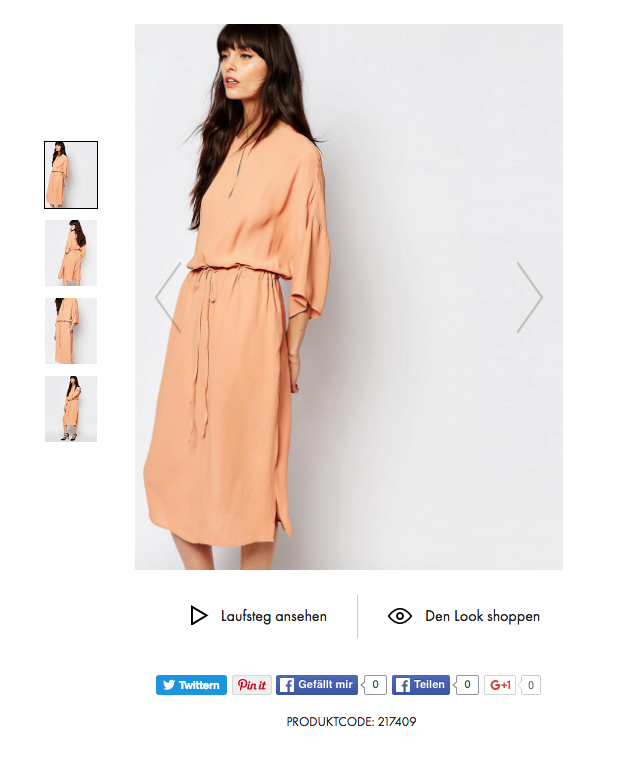 You can share the look directly on the Asos product detail page
You can also think about adding hashtags to all products, or just very special pieces from your range to start with, and making them known prominently in the categories or on the product detail pages. Then people who order this product can share photos of themselves with the new part directly online. Thanks to the hashtag, you can quickly find all the matching pictures and then think about how to continue with these gifts.
Pura Vida Bracelets, for example, arranges a small UGC happening every day: Hundreds of people use the hashtag to upload pictures of themselves and their newly purchased bracelets to the World Wide Web. Pura Vida bracelets features one of them every day. The benefits are reciprocal: the company collects a lot of extra points on the authenticity account, while the winner receives an extra portion of visibility, attention and likes. Win-win oh yeah!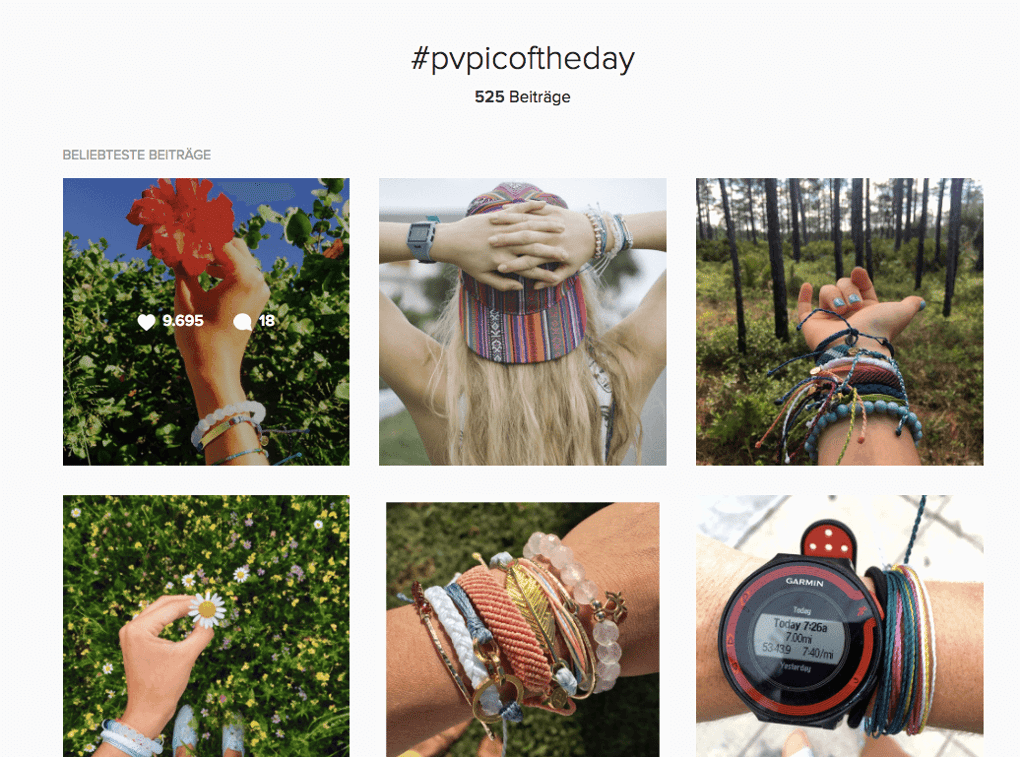 UGC for Pura Vida Barcelets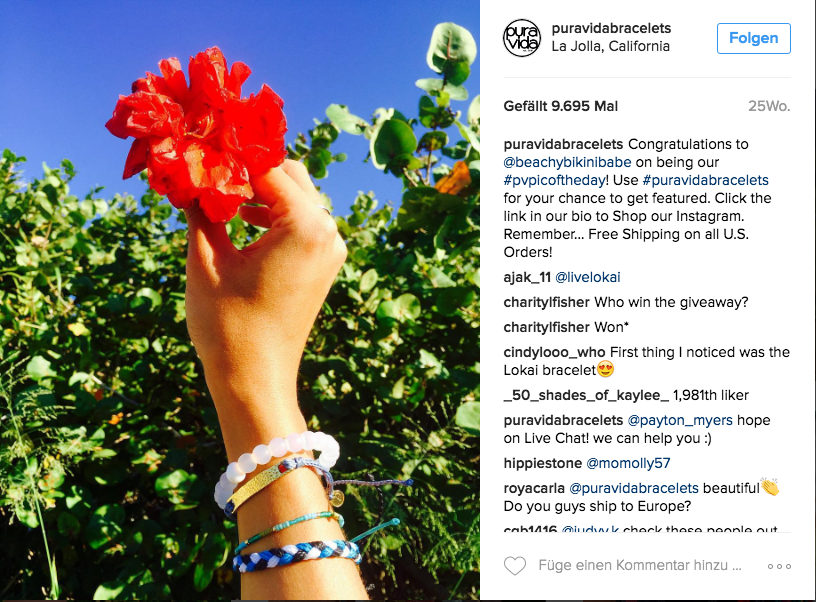 Everything done right: let the conversations begin
What is the step up from authentic? Exactly: REAL!
Everyone wants to be authentic these days. That's right. It's long overdue. Up until now, the world of advertising and reality have tragically only been able to see each other dimly from a great distance. We live in a time of togetherness. That may sound strange at first, but it is obvious that (meaning) concepts that are geared towards sustainability are attracting more and more people. Companies also have to jump on this bandwagon, especially online. Otherwise they will be left behind at the station of (hopefully at least) well-intentioned attempts.
If you want to be authentic, you should show what is real. You not only save money and time that you normally invested in complex shootings, post-processing and design software, but - and this is much more important - you win People in order to.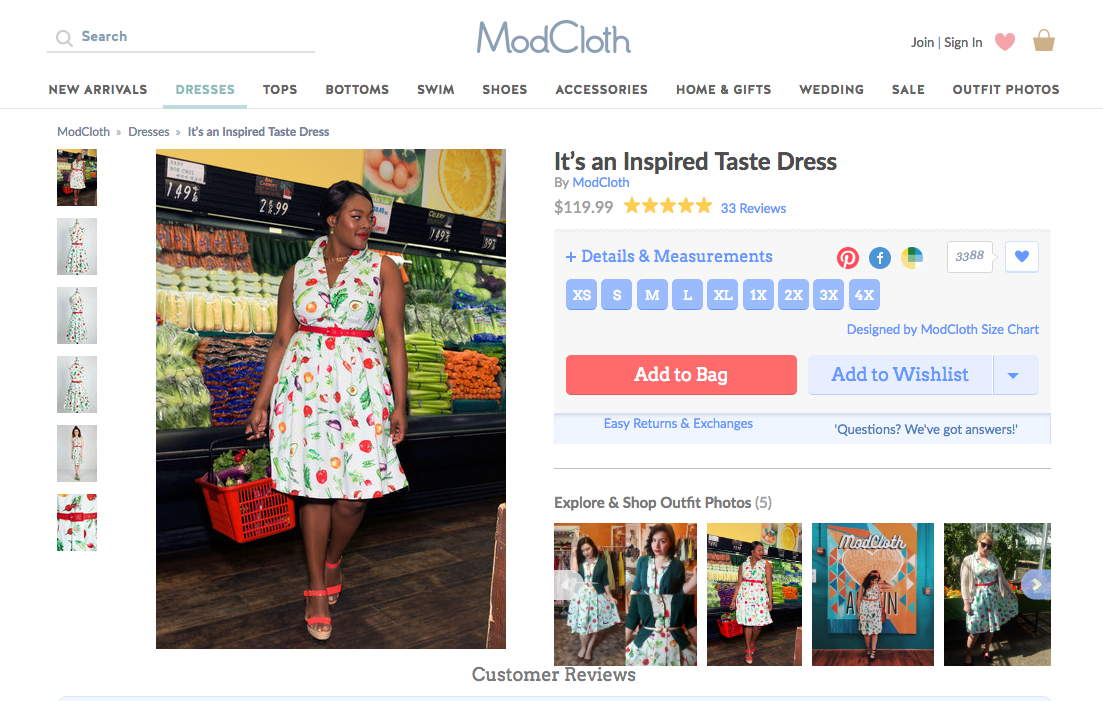 ModCloth is only real. No retouching, real people, real.
ModCloth, for example, is one of those companies that have signed the Heroes Pledge for Advertisers and thus set a clear signal against fake in the advertising world. Your products will be presented by real, non-photoshopped people. They also actively use UGC on their product pages.
Never before has the human race been better at spotting a fake
Pam Grossman (Director of Visual Trends - Getty Images)
If you use UGC, you will not only see it reflected in your conversion rates (and you will!). But user generated content brings you much more than just more money at the end of the day.
Because above all, User Generated Content brings one thing: Exchange with your customers and very close communication. You have probably never been this close to the target group.
Then they can stop targeting them because there is no longer any reason to shoot. Welcome Community! At this level, you get valuable insights and find out what needs to be improved about your product. You will see new trends faster than any competitor because you are right in the middle and experience everything directly. You also get free content that you can use again and again for your content marketing activities.
So, dear shops out there: Draw on the full and show your customers. It's gonna be a party!
As always, the possibilities are of course unlimited. Millions of ideas for imaginable campaigns, actions and crazy ways to use user-generated content in e-commerce are already sprouting in my head. So let's ponder what is out there in the comments.