Josef Mengele was a psychopath
Material for a horror film - The Angel of Death from Auschwitz - Dr. Mengele
mode_comment
2 comments
info
The story of Dr. Josef Mengele is fascinating, gripping, exciting and mysterious. Roughly speaking, he was a concentration camp doctor in Auschwitz who carried out various experiments on people - of course, everything for the "science". He adored the Führer, but never met him in person. After the war ended in 1945, he no longer felt safe and fled Germany. It was not until 1960 that he was tracked down by the Israeli secret service, but not caught. In 1979 he finally died in South America. So much for the general data of the Dr. Mengele - now for the detail: Actually, his life story sounds like that of a horror film, in which the psychopath wins in the end. But that's not the case! Josef Mengele really existed! His deeds are controversial, but for eugenics and racial doctrine he was literally ready to walk over corpses.
The young years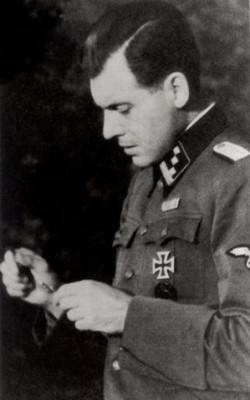 He was born on March 16, 1911 in Günzburg as the eldest of three sons. He studied anthropology and medicine with a focus on genetics in Munich, Bonn and Vienna. His school friend J. Diensbach said about Mengele after 1945: "He didn't just want to be successful, he also wanted to stand out from the crowd. It was his passion to be famous. He once told me that one day I would read his name in the dictionary.".
After he had passed his medical state examination and his medical internship, he worked at the Institute for Hereditary Biology and Racial Hygiene at the University of Frankfurt, which was headed by Professor Otmar Freiherr von Verschuer.Third Reich"Was integrated and, for example, issued reports on compulsory sterilization. In 1935 he received his doctorate from the anthropologist Theodor Mollison. phil. (Doctor of Philosophy); the title of this dissertation, published in 1937, was "Racial morphological investigation of the anterior lower jaw segment in four racial groups". His medical doctoral thesis published in 1938 was entitled "Kin examinations for cleft lip and palate".
Both doctoral degrees were revoked from Mengele in the 1960s. With his doctoral theses and another publication, "On the inheritance of ear fistulas"It became clear in which direction he wanted his research to be understood: Mengele was a staunch supporter of racial doctrine and the racial hygiene of those in power during the Nazi era.
The time in the NSDAP and SS
In 1931 Mengele joined the Jung-Stahlhelm, which was transferred to the SA in 1934. Mengele left the SA a little later, referring to his state of health. In 1937 he joined the NSDAP and in 1938 the SS. In 1939 he married Irene Schönbein. In 1940 he volunteered for the Waffen-SS after receiving his conscription to the Wehrmacht on June 15, 1940, and was appointed Hauptsturmführer there that same year. This was followed by a job at the so-called Immigrant Central Office in Poznan. Mengele became a medical officer in the SS Panzer Division in 1941 "Viking"(SS Pionier Battalion V), with whom he took part in the war against the Soviet Union.
Auschwitz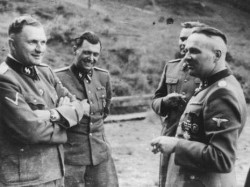 After being wounded on the Eastern Front in June 1942, Mengele came to Berlin in January 1943 to the Kaiser Wilhelm Institute for Anthropology, Human Heredity and Eugenics. When one of the doctors at Auschwitz-Birkenau fell ill, he was replaced by Josef Mengele on May 30, 1943. He was a colleague of Hans Münch. In Auschwitz-Birkenau, Mengele experimented primarily with twins and small stature, which for him the exemplary expression of "Abnormal"Represented. Gypsy children were also of great interest to him; he wanted comparisons between them and the other imprisoned children to confirm the claims of racial doctrine.
Like almost all other concentration camp doctors, Mengele made selections among the newcomers to the "ramp"As well as in the camp for the gas chambers, where he ordered the murder of approx. 40,000 people (!). He preferred resident doctors to carry out demanding operations. He himself concentrated on his human experiments and the subsequent sections of the corpse. He used phenol injections to kill people when trying to determine an autopsy result. The aim of his actions and murder was a habilitation, but it never came.
Dr. phil. Dr. med. Josef Mengele was originally not a "monster"Whose research should have been rejected from the start. However, at the end of his work as a doctor and scientist, there are 2,000 people whom he brutally murdered himself or had gas killed in the course of his so-called medical twin research. In addition, as Josef Mengele selection doctor, he is at least responsible for the killing of another 2 million people, as he did not directly initiate their murder, but nevertheless tolerated them.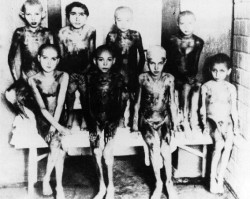 Mengele's main focus of work consisted in twin research, into which he intensified himself with increasingly fanatical cruelty. The likely purpose of his "Studies"Was a complete and reliable determination of heredity in humans. The concentration camp offered the best possible conditions for this. With the loss of all morals and ethics, he was able to observe all pairs of twins brought in here under the same living conditions and carry out his experiments. These human experiments consisted, among other things, in the fact that children when fully conscious, injected typhoid bacteria into the veins or dye solution in the pupils, opened their skulls or sewed small children with their bodies together. But Mengele could also "kind"And send the victims to death in the best of health in order to take organs, specimens or blood samples from their bodies only afterwards. Other "Research areas"Were the study of dwarfs as an exemplary expression of the"Abnormal"And a burning death of the cheeks caused by complete physical and mental exhaustion, which he tried to justify from a disposition of the breed.
SpiegelTV: Mengele Hunt for the Angel of Death docu
Times of flight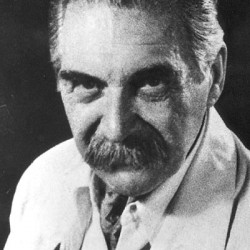 Shortly before the arrival of the Red Army, Josef Mengele fled Auschwitz on January 17, 1945 to the Groß-Rosen concentration camp, where he was able to continue his murderous machinations for a short time. Then he fled again and on February 6, 1945 found shelter with a Wehrmacht unit. This unit was interned by the Americans in Schauenstein. Since Mengele did not have a blood type tattoo like other SS members, he remained unrecognized and was released after three months under his real name. At this point in time, the Americans did not know anything about the identity of the "Angel of Death from Auschwitz". After he had made his way to his hometown Günzburg, he hid himself from autumn 1945 under the name "Fritz Hollmann"On a remote farm in Mangolding near Rosenheim in Upper Bavaria.
In April 1949, on Easter Sunday, Mengele was smuggled over the Brenner to South Tyrol with the help of an innkeeper from Vinaders, where he stayed in an inn in Sterzing. A little later Mengele traveled on the so-called rat line under the name "Helmuth Gregor"To Genoa, where he embarked on June 20, 1949 on the steamer North King for Buenos Aires. He lived there until the late 1950s with the help of other war criminals who had fled and forged Red Cross exit papers. During this time he practiced as a doctor and also performed abortions, which were illegal in Argentina. He entered Germany at least once again under a false identity. He then applied to the German consulate in Buenos Aires for an identity check and a new German passport in his real name. He received both without any problems. After the search for him had started, he first fled to Paraguay.
After the kidnapping of Adolf Eichmann, he hid in São Paulo, where he last lived in simple circumstances. But the manhunt concentrated on Paraguay, where he had lived for years under his real name. After Uki Goñi, the Nazi escape helpers Willem Sassen and Hans-Ulrich Rudel took care of his auxiliary facility "Comrades' work"For Nazi war criminals in South America for protecting Mengele's identity and security from discovery and conviction. Former Mossad employee Rafi Eitan reported in September 2008 that his group had tracked him down in 1960. In order not to endanger access to Adolf Eichmann, Mengele was not pursued any further.
Dead angel of death
Mengele presumably suffered a stroke on February 7, 1979 while swimming in the sea and died the same day. He was buried under the false name of Wolfgang Gerhard in Embu, south of São Paulo. However, this was still unknown in Germany for some time afterwards. As recently as December 1980, press agencies reported, citing Mengele's relatives, that he now wanted to face the German judiciary.
By 1985 the reward placed on his head by the Hessian state government increased to one million marks, other organizations offered a further six million marks.
In 1985 his grave was discovered by German, American and Israeli investigators. Mengele's body was exhumed on June 6, 1985. Within a few weeks, on June 21, 1985, 18 international coroners were able to confirm the identity of the corpse with almost no doubt. Josef Mengele's death has been proven beyond doubt since a DNA test in 1992 at the latest.
Addendum
In 2004, Mengele's letters and diary notes were published in Brazil. The chance find sheds light on some of the SS doctor's final thoughts and circumstances. The documents make it clear that Mengele did not regret any of his actions and remained a staunch Nazi who denied his guilt until his death. He defended the "Otherness of races". In 1972 Mengele also toyed with the idea of ​​returning to Germany. ("But how is my home today? And is it still my home? Will she not receive me as an enemy?"). The 85 yellowed documents had been in the archives of the Brazilian Federal Police in São Paulo since they were confiscated in the apartments of friends and acquaintances of Mengele in 1985.
Recently, rumors came out that Josef Mengele continued to experiment with pregnant women and twins in Brazil. You can find more about this in a report in the Süddeutsche Zeitung.