Low calorie broccoli soup
Recipe for a simple low-calorie broccoli soup without cream and fuss, which is also suitable as part of a low-carb diet
This great low-calorie broccoli soup is healthy, tasty and pure broccoli. This makes it particularly suitable for a low-carbohydrate diet based on the low-carb principle. But it is also a really healthy and delicious meal for children, which turns into a full meal with a pretzel or delicious bread as a side dish.
If you like, you can refine the broccoli soup with fried onions, garlic and other things ... there are no limits to your imagination. The soup tastes best when you prepare it a day in advance - then it can really go through with it.
Thank you dear Anne for this fine recipe!
2 fresh broccoli
Vegetable broth
Salt, nutmeg, pepper
some butter
This is how the broccoli soup is prepared
First, take your broccoli and divide it into small florets. If the stalk is nice and not woody, you can use it and cut it into smaller pieces. Then place the broccoli in a large saucepan and cover it with salted water. Now let it simmer over low heat until it is firm to the bite. Drain it off, but be sure to catch the boiling water!
Add the vegetable paste or stock to the cooking water.
Remove a few florets from the broccoli, return the rest to the saucepan and puree it finely.
Then you put the pureed broccoli on the stove and gradually add some of your vegetable stock until the soup has the consistency you want.
Finally, season your broccoli soup sparingly with salt and nutmeg.
Stir in a little more butter for a finer taste and then add the broccoli pieces that have been put back. Now you shouldn't stir too vigorously so that these are retained.
© Familienkost.de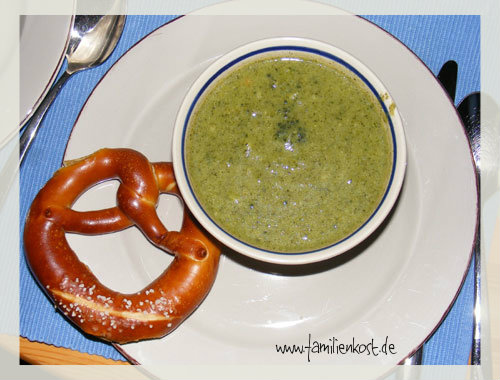 Are you a big fan of soups and always looking for new recipes and ideas? Then click on to my large collection of soup recipes.

Do you like this recipe? Then please follow me on Facebook or Instagram to always stay up-to-date.
* As an Amazon partner, we earn from qualified purchases. (This is an affiliate link that helps us finance this family magazine with a small commission when you buy it. This does not change the price for you.)