What is a good project about swimming
Integration through swimming course: a good feeling in the water
Swimming has always been her passion: Franziska Meißner mainly teaches refugees. And does a lot more than just keep above water.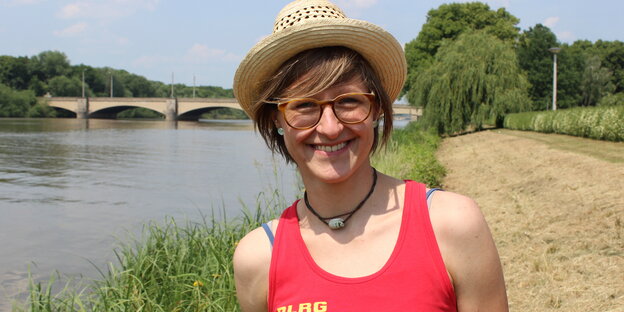 The main thing is water: Stefanie Meißner developed a special concept for her swimming courses Photo: Volly Tanner
As soon as the holidays in Saxony are over, things will start again for Franziska Meißner: she will then be standing in the swimming pool for seven hours a week. "Bringing people closer to water", that is the goal of the 32-year-old chairwoman of the Deutsche Lebens-Rettungs-Gesellschaft e. V. in Leipzig.
She is particularly pleased that her offer can now be expanded through cooperation with a local swimming club. "The courses are aimed at everyone from the age of twelve who cannot swim or cannot swim well," she explains.
It is important to her: "Origin or parental home do not matter. Everyone is welcome. "Although there are also funding opportunities for children from socially disadvantaged families, most of the participants are refugees, Meißner explains. The need is greatest among them, and many cannot swim at all. In the courses they learn to move safely in the water.
The field of participants is mixed, says Meißner: The oldest swimming novice was 47 years old last year. "Most of them are between twelve and mid-twenties," she explains.
Learn German while swimming
The project is an affair of the heart for Meißner. "When so many people came to Germany in 2015, I wanted to help. And that with my strength in teaching swimming. "The idea was born.
A challenge? Meißner says she was worried at the beginning: about communication problems, about reactions to her as a woman. That's why she first asked a male colleague for support. But the native of Leipzig quickly stood alone at the edge of the pool.
As part of her master's thesis - Meißner studied sports science in Leipzig - she developed a special course concept especially for her swimming courses. According to your concept, eight to ten participants should be taught to swim in individual groups. In addition, the focus is on improving language skills.
The cooperation with the local swimming pool is also a reaction to the high demand. Previously two courses per year could be offered, now there are a total of seven at different levels. "All seats are taken," reports Meißner. For the first time there is a course exclusively for women. "Because of their beliefs, some swim in mixed classes in burkini," she explains. "And this mass of material is simply a hindrance when learning to swim."
20 to 30 hours of volunteering
Meißner is passionate about her sport: "Swimming is part of my life." It could have turned out very differently. When she was looking for a suitable sport for herself at the age of twelve, she started playing soccer. "But that wasn't for me: in the winter, run across the Ascheplatz in floodlights with a bobble hat. Then I got the ball in my face two more times and that was it, "she says with a laugh. She got into lifeguarding through her stepmother and her sisters. She quickly became enthusiastic - trained up to six times a week, took part in competitions and was involved in the club. Today she steps in when the woman is in need: "But I'm not that fast anymore."
The Leipzig resident has been chairwoman of the DLRG since 2017. Swimming courses, lifeguard training, disaster control, rescue dog team - Meißner has to bring it all under one roof. That means a lot of paperwork for the 32-year-old. At peak times, it is sometimes 20 to 30 hours that she invests in voluntary work, usually 10 to 15. "What doesn't work, that doesn't work," says the mother of two, revealing her recipe for stress relief.
She will soon take up a didactic degree, because for the past year and a half she has been teaching sport as a career changer at a primary school. The focus? Is of course also here on the swimming.