Share all of your achievements
Adding Achievements To Your Resume - A Hack For More Interviews
Put yourself in the employer's shoes: you're checking a candidate's résumé. This indicates that you have the necessary skills and competencies that you are specifically looking for. He also has the many years of professional experience you want. So far so good, you might say. But if one candidate doesn't highlight their skills by mentioning achievements, while the other candidates on your list of résumés mention their added value by mentioning their achievements like "15% increase customer loyalty", you would invite them for an interview ? Probably not. So don't be that candidate. Increase your chances of being invited for an interview by highlighting your achievements.

Should you add achievements to your resume and why?
In short: yes. You should definitely add achievements to your resume. It's not a lot of effort, but it can give you a huge advantage over other candidates. Here's why: On a resume, an applicant can demonstrate any skill set by simply listing them under the "Skills" section. However, the skills and qualification level remain rather abstract for any employer. Instead, spark his imagination by showing him how to put these skills into practice and share the successes with him. This is more interesting for your new potential employer. Remember, most employers are simply interested in what you can do for them. Sharing successes is a great way to show that and get them interested.
It is a mistake to believe that you have an easy job and therefore there are no achievements worth sharing. In virtually any role, regardless of job or title, you can do meaningful things that make a difference! Think of anything that highlights your skills at work.
What are good examples of achievements to include on your résumé?
Of course, it all depends on your personal situation. First and foremost, it is important to choose the achievements that your potential employer can understand and identify with. This means that you have to cut out all company-related terms and abbreviations. An outsider needs to understand what your achievements are and why they matter. In general, commercial companies are interested in either increasing their sales, increasing customer satisfaction, or reducing costs. If you don't know what to write, then research the company's current challenges, especially in relation to the position you are applying for.
Check out the job description for clues as to what the challenges might be. If you have faced these challenges in previous roles, share these experiences.
When choosing which experiences to mention, think about experiences that may relate to the potential employer's situation. Don't talk about absolute numbers, but rather about percentages. In this way, an employer can simply transfer the successes to his situation. As an example: What would it mean for me (the employer) if an applicant X (you) could increase the conversion by 15%?
To give you a little inspiration on the potential achievements to add to your resume, we have some examples of good achievements for a wide selection of roles and industries. These include the following:
Customer service
"Establishing communication flows for new customers to increase overall customer satisfaction by 20%"
"Leading a project to set up an overseas department"
"Achieving a 15% increase in NPS for clients who first filed a complaint"
gastronomy
"Introducing a new menu, reducing costs by 10% while maintaining satisfaction and improving sales"
"Co-organizing the reopening and press event of a cinema"
"Developed and implemented a new approach to guests that resulted in guests spending 15% more and a 9% increase in NPS"
Designer
"Design of the graphic designs for the cover of the January 2020 issue of Forbes Magazine"
"Management of the conceptual phase of a major brand conversion"
"Reduce customer contact calls by 30%, with an improved UX for an insurance company"
sale
"Achieving a 35% higher average order value than other customer service representatives thanks to excellent up- and cross-selling skills"
"Initiation of a customer loyalty program that led to a 70% higher loyalty rate"
"Recovering a former top 10 customer who signed with a competitor"
Buyers
"Implementation of a new procurement campaign that resulted in three new contracts with key suppliers"
"Establishing an internship program for my department to create a constant influx of new talent"
"Monitor inventory management during a supplier cutback and improve service availability levels by 33%
marketing
Reduction of the total expenditure for advertising by 13.2% and at the same time increasing the flow of leads by 3% "
Co-authored an article about my employer in the New York Times "
Development of a new customer journey, which increased the average conversion rate by 15% "
construction
"Enforce new government security protocols and avoid heavy penalties, including cordoning off the construction site"
"Leading an 8-person team that was able to meet 40% more deadlines due to strong cooperation skills and excellent planning"
"Award for the employee of the year"
engineer
Development of an exhaust system that cuts fuel consumption by 6.4% and CO2 emissions by 13.8%
Publication of an article on storm surge barrier protection in the Journal of Marine Science and Engineering
Improving the performance of solar cells by 9% by combining a new design with new materials
Should I add independent achievements to my resume?
Imagine that you've done something impressive - like running a marathon. Is this something to include on your resume when applying for a job as a sales representative? After all, it's difficult to argue that your great stamina will help you run your job successfully.
Even so, we recommend mentioning independent achievements. Your running skills may not help you attract new customers, but running a marathon shows a high level of discipline and motivation.
We encourage applicants who add an independent achievement to mention at least one or two achievements that demonstrate skills directly related to the open job. In this way you show that you are not only interested in your hobbies, but also that you are a performance-oriented person in a professional setting.
Where and how do I add achievements to my resume?
As is so often the case, there is no direct answer to this question. We always recommend arranging the different sections of the résumé in order of importance for the application. What does that mean? If your successes add value to the application, then they should be high on the first page of the resume. Are the successes less relevant to the potential employer? Move them down to make room for the important sections, such as competencies or your personal description.
Achievements can be presented in two different ways:
By adding a separate Achievements section.
By including them in the description of your previous roles under the "Work Experience" section.
If you really want to highlight your achievements, it is best to list them under a separate section. This is how they stand out and are definitely seen. If you'd rather include them in a more humble way then you can include bullet points within the description of your work experience.
Achievements can either be added to the Work Experience section, or you can highlight them in a separate section as shown below.
Curriculum vitae example - mechatronics technician with section "Successes"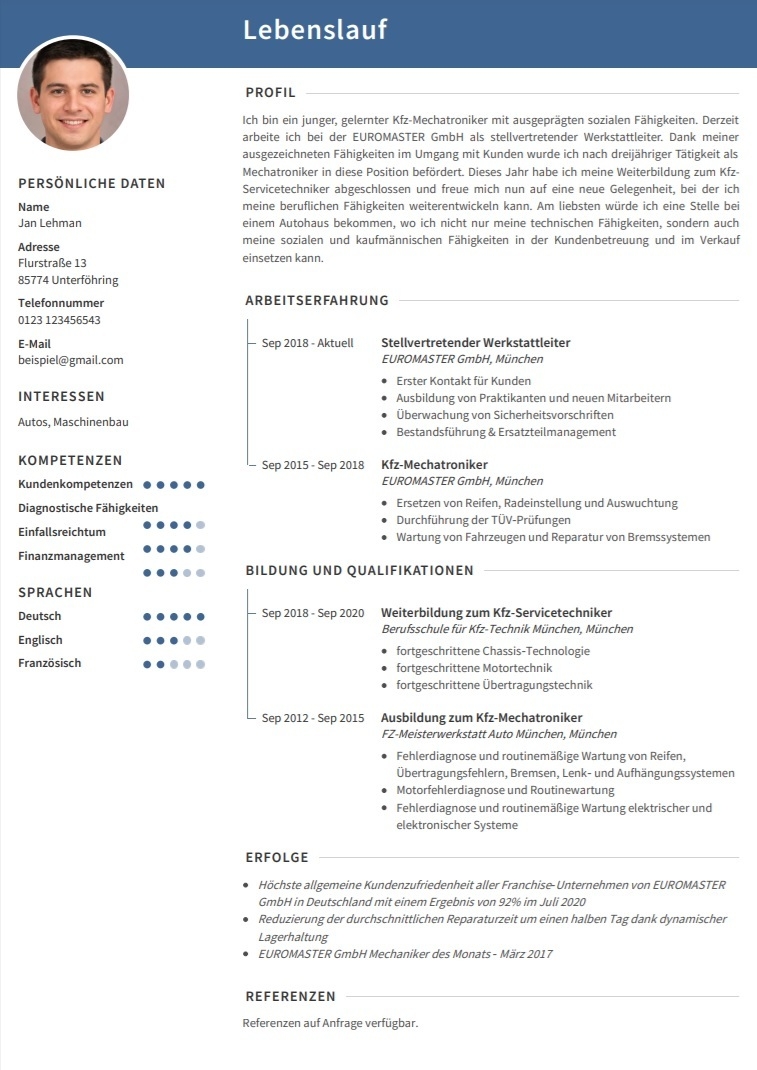 Download this example of a résumé with achievements "Automotive Mechatronics"
If you need more inspiration, check out our remaining resume templates and examples.