Which microorganisms eat plastic
Do microorganisms solve our plastic waste problem?
Researchers at the University of Portsmouth examined around 100,000 different microorganisms, and finally found what they were looking for in a pile of leaves. The mutated bacterial enzyme now presented in the specialist magazine "Nature" breaks down polyethylene terephthalate (PET) into its components within a few hours. After ten hours, the mutated enzyme had broken down 90 percent of a ton of old plastic bottles into their components.
Solution to the global garbage problem?
Hopes are high that microorganisms will be able to solve our plastic problem in the near future. Because so far, effective plastic recycling is just a myth. Around 359 million tons of plastics are produced worldwide every year, of which an estimated 150-200 million tons end up in landfills or in the environment.
At almost 70 million tons, polyethylene terephthalate (PET) is the most widely used polyester plastic. In its purest form, PET is used in the food industry, for example for the production of drinking bottles, foils and food packaging. Textile fibers are also made from the tear-resistant, weather-resistant and wrinkle-free polyester.
Often the carelessly thrown away plastic waste ends up in the environment
However, PET cannot really be recycled, it can only be downcycled. During the thermomechanical process, the material loses many of its properties and it can only be used for inferior products such as fleece or carpets.
Japanese research results consistently pursued
Japanese researchers from the Kyoto Institute of Technology discovered in 2016 that certain enzymes can break down plastics. When examining the wastewater, sediments and active sludge in a recycling plant for PET bottles, they discovered the bacterium Ideonella sakaisensis 201-F6.
Two so far unknown enzymes of the bacterium are responsible for the natural decomposition process. The enzyme ISF6_4831 converts PET into an intermediate product and the other enzyme ISF6_0224 further converts this intermediate product, so that in the end only the harmless terephthalic acid and glycol remain.
However, since this natural decomposition process takes longer than a year, scientists from the University of Portsmouth and the Renewable Energy Laboratory of the US Department of Energy continued their research and, rather by chance, created a novel enzyme that breaks down PET much faster. The results were published in 2018 in the journal "Proceedings of the American Academy of Sciences" (PNAS).
Germans discover bacteria that decompose polyurethane
It has long been known that certain fungi can decompose not only PET but also polyurethane (PU). Millions of tons of this plastic are also produced annually, which is mostly used as flexible foam. The industry processes it into foam insulation or kitchen sponges, for example. PU is also found in diapers or as rigid foam, e.g. in sports shoes. Most of the time, polyurethane is disposed of in landfills or incinerated because the material is too tough to recycle.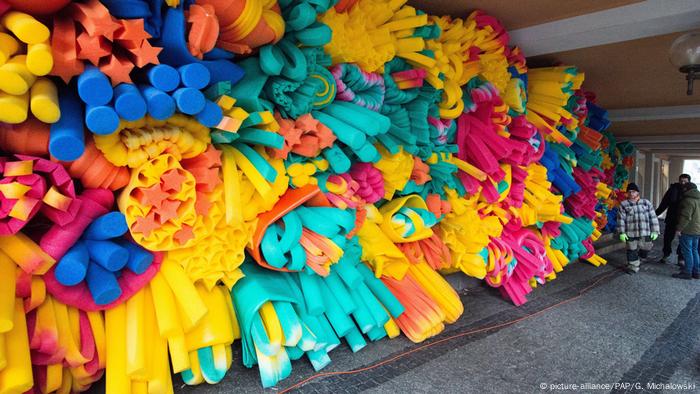 The tough polyurethane is mostly disposed of in landfills or incinerated
When polyurethane degrades, toxic and carcinogenic chemicals can be released that would kill most bacteria as well. But the bacterium found in a landfill and presented in March by the Helmholtz Center for Environmental Research (UFZ) in Leipzig does not matter. It comes from the strain of Pseudomonas bacteria, which can survive even in harsh conditions such as high temperatures and acidic environments.
It is true that bacteria can be made usable for industrial use much more easily than fungi, but according to Hermann Heipieper from the Helmholtz research team, it could still be ten years before the bacterium can be used on a large scale. In the meantime, it is important to reduce the use of plastic that is difficult to recycle and to reduce the amount of plastic in the environment, said Heipieper.
Profitable prospects
Not only the environment, but also the French company Carbios, which has been working intensively and on a large scale with the decomposition of PET by means of enzymes and which has also financed this enzyme development, could benefit greatly from the newly introduced enzyme.
Carbios wants to bring the new recycling process onto the market on an industrial scale within five years. It could be worth it, because the cost of the enzyme is only four percent of the cost of the crude oil required to produce a comparable amount of new plastic bottles.
The PET bottles still have to be shredded and heated, but the new process is still profitable, said Carbios' deputy managing director Martin Stephan. To ensure that enzyme development accelerates quickly, Carbios receives financial support from large corporations such as Pepsi and L'Oréal.
Indonesia: The village of the garbage sorters

The garbage - a family business

Like almost all 3,600 residents of the village of Bangun, Sunarni (center) and her husband Salam (left) sort garbage to make a living. The garbage paid for the children's education, says Salam. He could also buy a house and cattle. "I now have nine goats," says the 54-year-old. The photographer Willy Kurniawan visited the family and their neighbors in Bangun.

Indonesia: The village of the garbage sorters

Garbage from all over the world

Last year 283,000 tons of garbage were exported to Indonesia from industrialized countries. Part of it ends up here in Bangun - including waste from Germany. Many of the once green rice fields have long since disappeared under the mountains of rubbish. Workers look for plastic and aluminum to sell on to recycling companies.

Indonesia: The village of the garbage sorters

A flood of rubbish: a curse or a blessing?

But now the livelihood of the entire village is in jeopardy: After China decided not to import any more rubbish, the rubbish ended up in other Asian countries. Indonesia has therefore tightened the rules and customs inspections. Hundreds of tons of rubbish have since been sent back to their countries of origin.

Indonesia: The village of the garbage sorters

Uncertain future

While environmentalists welcome the stricter rules, the residents of Bangun worry about their future: "If they want to forbid us from being here, there has to be a solution. The government didn't offer us any work," says Heri Masud (left).

Indonesia: The village of the garbage sorters

Garbage as an all-rounder

But not only the workers and the recycling companies in the area are dependent on the garbage: In snacks like this, the garbage is used for cooking. The income from sorting the garbage benefits the whole village: For example, the residents were able to go on a pilgrimage to Mecca.

Indonesia: The village of the garbage sorters

Health hazard

"The work is easier than farming," says Salam. The 54-year-old works as a rubbish broker between the villagers and a paper mill. But working on the garbage dump is not entirely harmless. Environmentalists warn of the impact on the health of the villagers. Many of them work and live among garbage all their lives.

Indonesia: The village of the garbage sorters

Consequences for the environment

Dead trees, polluted oceans: nature also suffers from the masses of waste. Researchers from the environmental protection organization ECOTON have found microplastics in the groundwater of Bangun and a nearby river. This is used by 5 million people in the area as a source of drinking water.

Indonesia: The village of the garbage sorters

Sweep in front of your own front door

Own rubbish is also a problem in Indonesia, only a small part of it is recycled. Many rubbish tips in the cities overflow and the beaches are also full of litter. "We know that Indonesia is dirty, and now there is also the garbage from the USA," says Prigi Arisandi from ECOTON.

Indonesia: The village of the garbage sorters

Great plans

How and whether the situation will change in the future is unclear. The government wants to reduce plastic in the oceans by 70 percent by 2025 and invest a billion dollars in it. How the implementation of these plans will stand is unclear. The construction of waste incineration plants has been delayed, and a ban on plastic bags has met with fierce criticism from the plastics industry.

Author: Rebecca Küsters (text), Willy Kurniawan (photos)