What is your opinion on child marriage
Germany and child marriage
A 14-year-old girl married her 21-year-old cousin in Syria. Together they fled the war-torn country and finally arrived in Aschaffenburg. The youth welfare office refused to recognize the marriage and took the girl into custody - for reasons of child welfare, as it was called. The husband went to the family court and was unsuccessful in the first instance.
But the Higher Regional Court (OLG) Bamberg overturned the decision in a sensational judgment: The Bamberg judges had invoked the principle applicable in Germany that marriages concluded abroad are to be judged according to the laws of the countries of origin and thus legitimize the marriage. The city of Aschaffenburg therefore appealed against the Bamberg child marriage ruling. Now the Federal Court of Justice should decide.
The subject of child marriage, which otherwise seems so far away, is suddenly present again. In Germany there have been marriages of minors for a long time with a special permit for each individual case. Many representatives of human rights organizations, as well as lawyers and politicians, are of the opinion that child marriages should be prohibited in principle. "An 11-, 13- or 15-year-old girl does not belong in a marriage, but in a school," says a resolution drafted by the CDU / CSU. Since the demands are increasing to take more consistent action against child marriage among refugees, Federal Justice Minister Heiko Maas has set up a federal-state working group to look for a uniform regulation.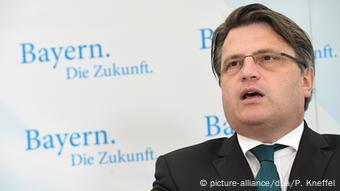 Bavaria's Minister of Justice Winfried Bausback: Do not recognize marriage under 16
What exactly should the working group deal with?
The main question that the members of the working group should pursue is: Should marriages concluded abroad be recognized in Germany? When registering the refugees, various authorities found numerous marriages of under 18-year-olds. According to surveys by the federal states, there should be around 1000 child marriages of refugees nationwide, over half of them in Bavaria. In most cases the girls are only 16 or 17 years old. Specific information on how old the husbands are or when the marriages were concluded can hardly be found. Since information on marital status is not mandatory, the statistics are not reliable. The number of unreported cases could also be higher.
What is the legal situation like in Germany?
For marriages in Germany, marriage begins at the age of 18. According to the German Civil Code, marriage should not be entered into beforehand, but the family court can grant an exception if one spouse is of legal age and the other is at least 16 years old. Child marriages also take place in Germany.
Federal Family Minister Manuela Schwesig (SPD) spoke out against it. According to the Convention on the Rights of the Child, children have "the right to play, education and health - in short, to grow up carefree". Forced marriages "we must not accept".
So far, legally concluded marriages of foreigners who were concluded abroad must be recognized.
What changes are being discussed?
While Bavaria's Justice Minister Winfried Bausback (CSU) is calling for marriages made abroad with girls under the age of 16 not to be "recognized", North Rhine-Westphalia Justice Minister Thomas Kutschaty (SPD) says that only such marriages should be considered in the future to be recognized where both spouses are of legal age.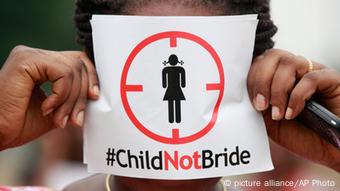 In many countries where child marriage is widespread, human rights activists take to the streets - like here in Nigeria
This should particularly please the child protection experts. Because both the Deutsche Kinderhilfe and the women's rights organization Terre de Femmes demand that there should no longer be any exceptions in Germany when it comes to child marriages: "We demand that this exception rule be deleted and we demand that the minimum marriage age of 18 years be enforced will, without exception, "says Myria Böhmecke from the Terre de Femmes organization. "We are not asking for a forced divorce," she explains, "but rather a non-recognition of the marriage." An underage married girl would be considered an unaccompanied person. "That way you have more options to protect them."
The chairman of the board of Deutsche Kinderhilfe, Rainer Becker, points out, however, that it is still important to consider individual cases of child marriages that have been concluded abroad in the future. "I think the working group that the Federal Minister of Justice has set up is important." You have to deal with the topic and confess. "But simply to say 'we generally do not recognize marriages abroad in Germany' does not do justice to the topic." Because not all of these marriages were forcibly concluded, he said in an interview with DW.
How do the authorities deal with child marriages among refugees?
Since marriages of 16-year-olds are basically also possible in Germany, child marriages of 16-year-old refugees are usually also recognized. So far, only marriages with children under the age of 14 have not been recognized. In Germany, a decision is made on a case-by-case basis for marriages concluded with 14-year-olds or older minors.
What are the causes of child marriages abroad?
In many of the countries from which the refugees come, child marriages are not allowed, but they are approved. Marriage in itself has a high priority. And not every child marriage is a forced marriage. In Syria or Afghanistan, the minimum age of 16 actually applies. For boys, there is usually a slightly higher minimum age. Exceptions are also possible here.
According to the UNICEF children's aid organization, it is especially the girls who are married off early or who want to marry early themselves; it also occurs with boys, but less often. Economic reasons often play a role: girls are seen as ballast and not as future breadwinners, writes UNICEF. The bride allowance is important for many families.
However, a particularly large number of child marriages are currently being concluded in refugee camps in Lebanon, Jordan and Turkey, says Myria Böhmecke from Terre de Femmes. Since there was great economic hardship there, parents tried to protect their daughters. But, says Böhmecke: "The families are also afraid of sexual assault on their daughters. That is why they often marry them off early." In this way the daughter is protected, and last but not least, the family honor, because virginity has a high value in patriarchal structures. "