How did the French kissing get its name
The kisses etiquette for World Kiss Day
When I came to Germany twelve years ago, I was very surprised at the handshakes that were given here and there. The first appointment at the bank started with a handshake. Likewise with my real estate agent. Even at work, the new colleagues shook hands with me as a matter of course. Even my yoga teacher held out her arm on my first class.
I learned that shaking hands is a formal greeting in Germany. As the former Federal Minister of the Interior Thomas de Maizière wrote in his ten essays on German dominant culture in April 2017: "We shake hands in greeting." In the USA I rarely had to shake hands - maybe because I'm a woman or because I had seldom moved in a professional environment until then. In Germany, on the other hand, I have to make sure to keep my right hand free at all times in the event of a new acquaintance.
Bisou-Bisou: welcome à la française
When I got through all the ideas and got used to shaking hands, new problems arose for me: the relaxed greeting. While the handshake seemed stiff to me in the professional environment, it just felt weird at parties. How do you greet each other when you know people better?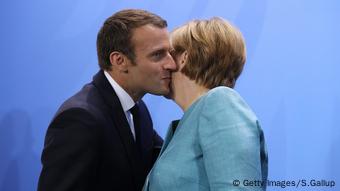 Welcome kisses: Angela Merkel and Emmanuel Macron
It turns out that the Germans have now cut a slice of the French. Instead of offering me their hand, my acquaintances and friends are now giving me air kisses on my cheeks - first the right, then the left. The first time I was a bit shocked - most of the Germans feel that the Germans are too stiff for this gesture. Even so, "social kissing" seems to be in vogue. I also understand why: It makes a lot more sense to show this kind of affection to close friends than to extend a hand.
At the same time, this form of greeting awakened a lot of questions in me, which mainly revolved around: Who gets kisses and who gets the handshake?
With some friends, especially Americans, the answer is clear to me: neither nor. We often roll our eyes at the so-called "European appearance". A smile and a short nod are enough to say hello. With my friends from Latin America, Italy or France, I know that kisses await me - that's part of their culture. I'm still undecided about the Germans.
Learn the rules before embarrassing yourself!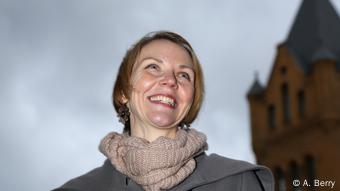 Kiss yes or no? Courtney Tenz has not yet internalized the kissing etiquette
I am not alone with my insecurity. When I asked my friends how they decide between kissing and handshaking, none of them could answer me. "When you find out what the rules are, let me know," said one.
Another friend said that she always makes her decision on a case-by-case basis. Also, she would only kiss good friends of the same sex. "I would never greet a male friend like that," she said.
That struck me as strange when I consider that my best friend has never kissed me on the cheek before. In contrast, the husband of another friend gives kisses every time they meet. While this is certainly not a romantic gesture, I wonder if he would greet another man the same way. After all, the East Germans had the socialist brotherly kiss on the mouth as part of their traditions. So men are not limited to just shaking hands.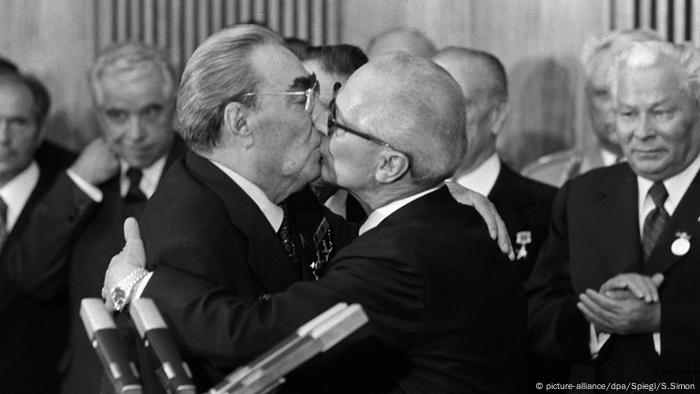 The famous socialist brotherly kiss between Brezhnev and Honecker
According to Rainer Walde, an etiquette expert and editor of "Der Große Knigge", the rules are very simple: cheek kisses are limited to family and friends, people you like or with whom physical contact is okay. According to Walde, kisses should never be transferred to the professional world because there is too much room for misunderstandings.
This potential for misunderstanding explains why the German etiquette society spoke out in favor of a ban on kisses in the workplace, even for kisses intended to be friendly. Even if the ban has not officially been enforced, most etiquette advisors agree that the cheek kiss only finds its place outside of the office. While Chancellor Angela Merkel and French President Macron will probably still greet each other with two kisses in the future, etiquette still recommends a handshake for work colleagues.
And that's typical for Germans too.

For World Kiss Day, we have put together famous kisses in our picture gallery. From cinema, art and real life.
Kisses that you will never forget

Famous brother kiss

In the former Eastern Bloc, people greeted each other - especially among statesmen - with the socialist brotherly kiss. An intense body contact that should show more connectedness than a vigorous handshake. This kiss between the former GDR state council chairman Erich Honecker and the Russian head of state Leonid Brezhnev could be seen at a reception in East Berlin in 1979.

Kisses that you will never forget

Rhett ... oh Rhett

In 1939 a film kiss goes around the world: In the tearful scrap of "Gone with the Wind", southern beauty Scarlett O'Hara (Vivian Leigh) wraps the rich Rhett Butler (Clark Gable) around her finger with this kiss so that he can save her home. She just wants to take advantage of him while he has long since fallen in love with her. It is only at the end of the film that Scarlett realizes what she's got in him. But he's fed up with her.

Kisses that you will never forget

The very first canvas kiss

In 1896 the short film "The Kiss" was made. The two stage actors May Irwin and John C. Rice can be seen hugging and finally kissing. The strip, which is only 20 seconds long, is the filmed final scene of a Broadway musical and is as successful as it is controversial, because never before has a kiss been shown so clearly. This gives the young medium of cinema a huge boost in popularity.

Kisses that you will never forget

"Jack! I can fly!"

Probably the most romantic kissing scene in recent cinema history with Kate Winslet and Leonardo DiCaprio: Jack and Rose stand at the bow of the "Titanic" and sail into the sunset. They don't yet know that it will be their first and last evening together at the same time. Because the romance ends with the sinking of the famous ship. Rose survives while Jack sinks into the freezing sea.

Kisses that you will never forget

Spider-Man's breath was gone

This kissing scene from the first Spider-Man film (2002) has leading actor Tobey Maguire in extremely unpleasant memories: "It was raining and water ran up my nose all the time and when Kirsten Dunst rolled my wet mask away, it cut my air completely from ", he confessed to the online service" contactmusic.com ". Nevertheless, there was the MTV Movie Award for this scene.

Kisses that you will never forget

The most terrible day ...

... of her life was the day she married Charles, said Diana eleven years after her "dream wedding" on July 29, 1981. Everything looked so great. Diana's dress, the happy smile, the somewhat stiff-looking prince, pomp and pomp. Diana was only second choice for Charles because he really loved someone else. Both of them covered it over well on this wedding day.

Kisses that you will never forget

Much better

In 2011 Diana and Charles' eldest son, Prince William, married his Kate. This marriage seems to have a better star. But be careful: the relevant media have their cameras ready for every public appearance of the two. There is also a lot of speculation. In March 2016, they were accused of having a marital crisis because they had a difference of opinion after a church service.

Kisses that you will never forget

Scandalous kiss at MTV

This kiss caused a stir at the 2003 MTV Video Music Awards. After Britney Spears and Christina Aguilera serenaded Madonna, the diva herself came on stage, sang and danced with them and thanked them both with a kiss that was a tad too long for the faint of heart. Even Britney's ex-boyfriend Justin Timberlake's jaw dropped.

Kisses that you will never forget

"Kissing the War Good-Bye"

On August 14, 1945, the day of Japan's surrender, a US Navy sailor hops across New York's Times Square, grabs every female he can get and kisses her on the face. The photographer of this scene has his finger on the shutter release when the sailor grabs a nurse. Couples in Times Square still like to recreate this scene today.

Kisses that you will never forget

Street photography from 1950

"Baiser de l'Hôtel de Ville" (kiss in front of the town hall) is part of a series of photos that photographer Robert Doisneau shot in Paris in the 1950s. The picture is world famous and is sold millions of times as a poster or postcard. Many couples smelled the money and pretended to be the ones in the picture. However, Doisneau was able to prove that they were actors.

Kisses that you will never forget

Art kiss

The most famous pictures of the painter Gustav Klimt come from his "golden phase". The gold bronze he used was reminiscent of Christian painting from the late Middle Ages and gave the paintings a precious touch. Klimt painted his most famous work, the "Kiss", between 1908 and 1909. The original picture is square, measuring 180 x 180 cm.

Kisses that you will never forget

Smooch the trophy once

On July 7, 1974, Germany won the soccer world championship for the second time after 1954, with a 2-1 victory over the Netherlands. Federal President Walter Scheel presents the trophy to team captain Franz Beckenbauer. After that, of course, everyone has to touch it and carry it through the stadium. Goalkeeper Sepp Maier insists on giving the trophy a big smack.

Kisses that you will never forget

The Pope who kissed the ground

Pope John Paul II has traveled all over the world. He greeted every country he visited with a kiss on the ground. Whether dust, asphalt or puddles - as in 1986 on the Fiji Islands (photo) - he always paid homage to his host country in this way. Jokers said the Pope only kissed the floor because he was glad he got out of the machine safely.

Kisses that you will never forget

Finally getting married properly!

On June 29, 2017, the German Bundestag decided that gays and lesbians can now get married and that "gay marriage" is legally equated with a marriage between men and women. A feast day for everyone who has previously lived in "registered civil partnerships". And really a good reason for a big kiss, as these two demonstrate in front of the Brandenburg Gate in Berlin.

Kisses that you will never forget

The night is beautiful

Kitsch romance à la Disney: Lady and the Tramp sit by moonlight and candlelight in an Italian restaurant, violins sigh around them, the cook sings the song "Bella Notte" in the most beautiful bel canto manner, a women's choir warns in the highest notes while the two dogs share a portion of spaghetti. When sucking in a noodle together, it comes - oops - to this kiss.

Kisses that you will never forget

Until someone gives up ...

Even in the real animal world, people snog occasionally. But not necessarily out of love. The "kissing guru" uses "kissing" in a fight between two rivals. The two opponents press their mouths on each other and push each other until one of them gives up and tries to run away. In China, these fish are often given away on Valentine's Day. A rogue who thinks evil.

Author: Silke Wünsch