How is the Vaseline Vaseline made
vaseline

Auxiliary materials

HydrocarbonsVaseline is a purified mixture of hydrocarbons with a semi-solid consistency, which is obtained from petroleum and is practically insoluble in water. Vaseline has skin-caring, skin-protecting, water-repellent and occlusive properties. It forms an impermeable film on the skin and retains water in it. Vaseline is used against dry skin, as a protective ointment, as an ointment base and as protection against the cold.
Synonymous: Vaselin, Petrolatum, Petroleum jelly, Vaselinum album, Vaselinum flavum
Products
Pure petroleum jelly is available in pharmacies and drug stores. It is found in numerous personal care products and cosmetics.
In German, the substance can be referred to as "the Vaseline" or "das Vaselin". In English, Vaseline® is a brand name and the substance is called petroleum jelly. The name Vaseline® comes from the American Robert Chesebrough, who developed the product in the USA in the 19th century.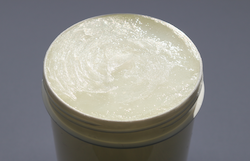 White Vaseline, click to enlarge. Photo © PharmaWiki
Structure and properties
Vaseline is a purified mixture of liquid and solid hydrocarbons, which are mainly saturated and are obtained from petroleum. Vaseline is a translucent, ointment-like and almost odorless mass that is practically insoluble in water. An antioxidant can be added.
The melting point is between 38 ° C and 60 ° C. Vaseline usually has a long shelf life because it is not oxidized and hardly undergoes chemical reactions. The pharmacopoeia differentiates between white and yellow petroleum jelly. The white vaseline is almost or completely discolored.
Effects
Vaseline has skin-caring, skin-protecting, water-repellent, antistatic and occlusive properties. By forming an impermeable film on the skin, it retains water in the skin, hydrates it, strengthens the skin barrier and reduces water loss.
Areas of application (selection)
For the production of semi-solid medicines, as an ointment base.
For the manufacture of personal care products and lip balm.
As a hydrophobic ointment.
As a hand cream.
For the protection of dog paws in winter.
As protection against the cold.
For the treatment of dry skin and cracked skin.
For the prevention of intertrigo and chafing.
As a lubricant, for inserting suppositories.
For the production of milking fat.
To protect small injuries and wounds.
To protect healthy skin during treatment with wart remedies.
dosage
Since the petroleum jelly is very greasy ("greasy"), only a small amount is usually required.
Contraindications
Hypersensitivity
Oozing and infected skin diseases
The complete precautionary measures can be found in the medicinal product information sheet.
unwanted effects
Possible undesirable effects include skin discomfort and heat build-up. If such problems occur, a dose reduction is recommended.
The manufacturers describe Vaseline as non-comedogenic, of high quality and well tolerated by the skin (for discussion see also → Paraffins).
Vaseline is criticized from an ecological point of view. Although it is a processed natural product, it is not sustainable because crude oil is not a renewable raw material.
see also
Paraffins, alkanes
literature
Al Aboud K.M., Khachemoune A. Vaseline: a historical perspective. Dermacol Nurs, 2009, 21 (3), 143-4 Pubmed
Pharmaceutical product information (CH)
BfR (2015) Mineral oils in cosmetics: According to the current state of knowledge, no health risks are to be expected from absorption through the skin.
European Pharmacopoeia PhEur
FAO
Manufacturer information
Pharmaceutical Technology Textbooks
Safety data sheet
Stiftung Warentest (2015) Mineral oils in cosmetics: Critical substances in creams, lip care products and Vaseline.
author
Conflicts of Interest: None / Independent. The author has no relationships with the manufacturers and is not involved in the sale of the products mentioned.
additional Information
Support PharmaWiki with a donation!
© PharmaWiki 2007-2021 - PharmaWiki provides independent and reliable information about medication and health.
This article was last changed on 11/12/2020.
Imprint and data protection declaration
Show products for this page